coyote950
Bip Bip !!
Moderateur Global
Inscrit

5 Février 2013
Messages

24 497
Points

113

​
COMMENT INSTALLER LA ROM Infinity ?
​
​
SAMSUNG GALAXY S8 G95xF/DS, SM-G95xN
​

Cette opération comporte des risques. Ni moi ni Phonandroid ne peuvent être tenu responsables des éventuels problèmes rencontrés. Pensez à effectuer une sauvegarde de votre système et EFS avant toutes modifications ou flash !
​
Merci à

RomFeatures​

Device supported:
Galaxy Note8: SM-N950F/DS, SM-N950N
Galaxy S8 Plus: SM-G955F/FD, SM-G955N
Galaxy S8: SM-G950F/FD, SM-G950N
Rom Infomation:
* Android 7.1.1 Nougat
* Base on Galaxy Note8
* Support Multiple languages
* Rooted / Deodexed / Zipaligned / Busybox / Deknoxed
Rom Features:
* Dual messenger: Hacked all app support
* Ported private mode
* Enable all mode camera
* Enabled available SystemUI toogle
* Enable backup restore message
* Enable outdoor mode
* Enable manage app data
* Enable multi user
* Enable real-time network speed
* Enable shutter sound camera
* Enable Indentyfi unsaved numbers
* Enable app lock
* Enable floating message
* Enable USB debug by default
* Mod 5way reboot
* Disable signature code
* Removed knox
* Faster boot animation
* Folder view for messages
* Disabled sms to mms conversion
And more...

Infinity Control Features :

​
screenshots :​
Changelogs :​

☆☆☆I N F I N I T Y - DX5.0 Final☆☆☆
This is going to be the final version, the final version of InfinityCustomRom developed on the Android platform Nougat 7.1.1
After this version I will wait for the official software update on the Android platform Oreo 8.0 from Samsung to continue developed the InfinityCustomRom

☆Changelog:
=> NOTIFICATION PANEL <=
- Added custom Clear memory
- Added custom Matrix effect
- Added custom Toggles animation
- Added custom Number of quick toggles
- Added custom Notification panel color
- Added custom Data usage
- Added custom Gear device info
- Added custom Quick launch toolbar
- Re-added Carrier label and mod custom carrier
- Added Shown/hide Multi user
=> STATUS BAR <=
- Added custom Dynamic status bar
- Added switched 4G - LTE icon
=> LOCK SCREEN AND SECURITY <=
- Added custom color: Music controller
- Added custom color: Contact information
=> RECENT PANEL <=
- Added custom Ram bar A.O.K.P

☆☆☆I N F I N I T Y - DX3.0☆☆☆
1. Added Infinity Control in Settings
Now using name: Infinity system settings
2. Added status bar clock seconds
3. Added custom clock date positions
4. Added custom clock date format
5. Added custom blur effect in recent panel
6. Added custom background in recent panel
7. New mods battery bar

☆☆☆I N F I N I T Y - DX2.0☆☆☆
* Update Infinity Control:
1. Enable/disable vibrate/silent icon
2. Enable/disable sim slot focus
3. Enable some hide system settings:
- A-GPS
- GPS satellite
- Notification log
- Device info
- Usage statistics
- IMS settings...etc
4. Added Immersive fullscreen
5. Added scrooll animation & listview animation
6. Added "Extended power menu" in Infinity Control with custom:
- Show/hide Power off toogle
- Show/hide Restart toogle
- Show/hide Hot reboot toogle
- Show/hide Flash light toogle
- Show/hide Recovery toogle
- Show/hide Screen recoder toogle
- Show/hide Settings toogle
- Show/hide Capture screen toogle
- Show/hide Google Assist toogle
- Show/hide Multi user toogle
- Show/hide Mobile data toogle
- Show/hide Airplante toogle
- Show/hide Emergency mode toogle

☆☆☆I N F I N I T Y - DX1.0☆☆☆
Changelog:
* Base on NMF26X.N950FXXU1AQIA
* Update SuperSU to v2.82 SR5
* Update Magisk to v14.3
* Update Infinity Control:
- Fix some mods to come FC SystemUI
- Added custom signal icon style
- Added custom wifi icon style
- Added custom status bar background
- Added custom blur background Notification panel
- Added custom Double-tap on Home screen
- Enable/Disable brightness waning
- Enable/Disable volume warning
- Enable/Disable USB plug/unplug



.
Avoir activé OEM Unlock-->
voir sujet ici
et lire >> <<<
.
Etre root ( pour backup efs ) et avoir installé le recovery TWRP de votre modéle
.
Avoir sauvegardé votre dossier EFS --> (
voir tutoriel
).
.
Avoir une batterie chargée (mini 75%)


1- Copier/coller le fichier
zip désiré
que vous avez téléchargé dans la mémoire interne de votre téléphone.
2- Téléphone éteint, redémarrer en mode recovery (
volume haut + home + power
)
3- Dans le menu qui s'affiche, sélectionnez
"Backup"
puis choisissez les partitions que vous voulez sauvegarder. Puis Faites glisser votre doigt de la gauche vers la droite sur
"Swipe to Back Up"
pour commencer la sauvegarde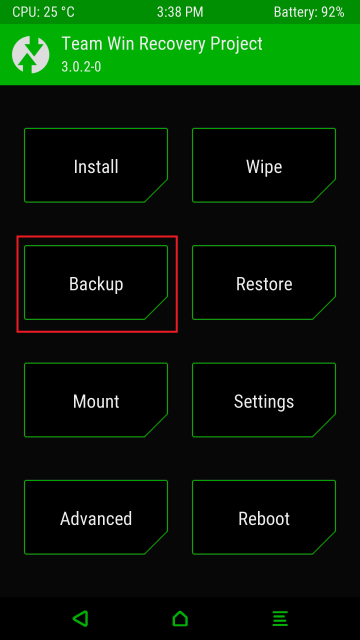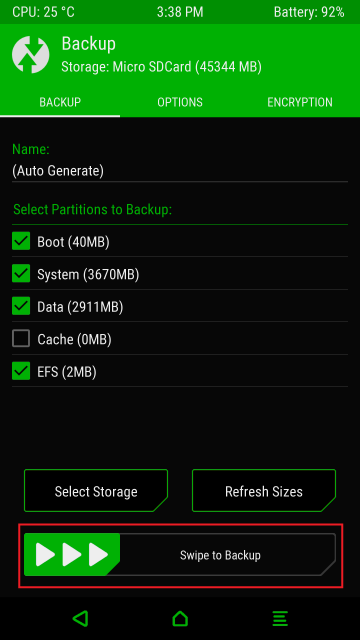 4- Une fois la sauvegarde effectuée, faites retour et allez sur
" Wipe / Advanced Wipe"
puis séléctionner "
Wipe Cache +
Wipe dalvik/ART cache + Wipe Data + Wipe System
et faites glisser votre doigt de la gauche vers la droite sur
"Swipe to wipe"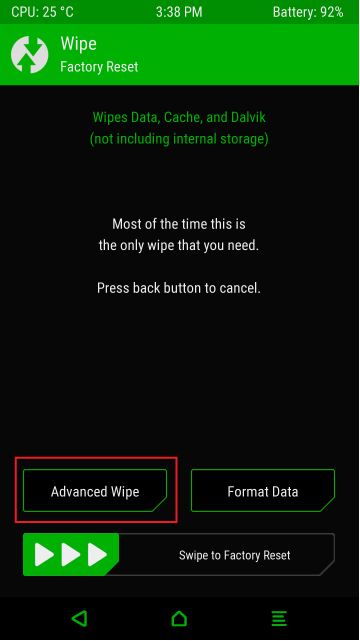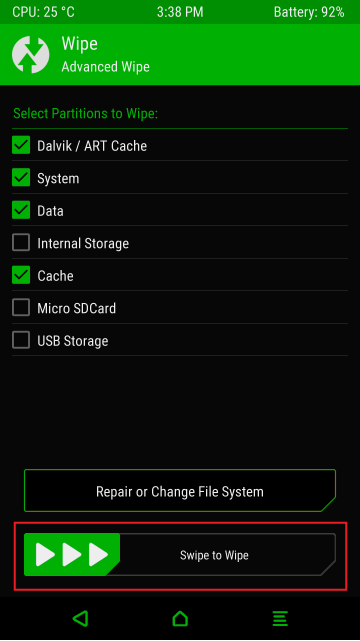 5- Revenez sur le menu principal, puis appuyez cette fois sur
"Install"
. Là, il ne vous reste plus qu'à choisir le fichier de la rom puis le flasher en faisant glisser de la gauche vers la droite le
"Swipe to Confirm Flash"
!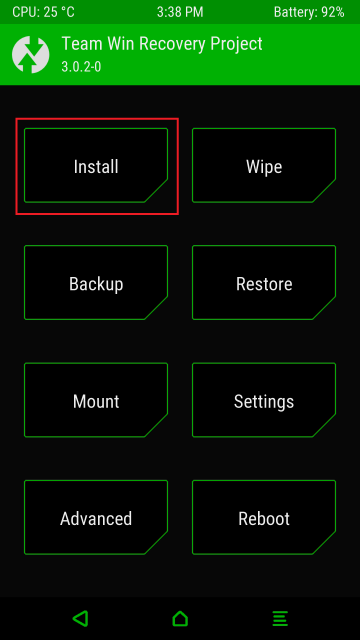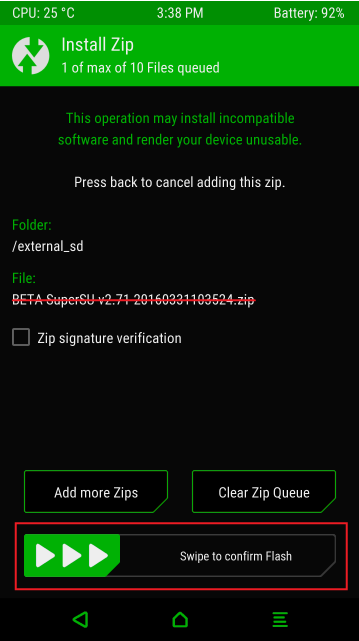 6- Une fois le flash terminé, faite un
wipe Cache
puis
"Reboot System Now"
Vos retours sont les bienvenus !​